After three months of hard work, mostly at night and during the weekends, we finally launched the first minimal viable version of VideoDrupal.org (beta 1.0), a curated mashup of Drupal video tutorials published on Youtube to make them more accessible for personal, educational and professional purposes.
For 2019, I've set up three main goals: improve my English, find a "real" Drupal Team to work with and launch this website. So, I've reached one of my goals. Checked! To be honest, I think it was the easiest one. Improving my English and finding a community-oriented Drupal agency will be harder. But I'm working on it!
Why VideoDrupal.org?
During the past 10 years, I have organized or co-organized several DrupalCamps and Drupal meet-ups here in Bolivia but also in Peru, Panama, Mexico and Belgium (Belgium is where I was born and I lived until I was 27 years old). People organizing those kinds of events know that this represents a huge effort during five or six months to motivate the local community, find the venue, setup the website, find the sponsors, plan and launch promotional activities, organize and schedule the sessions and so on... But the event itself is also really stressful and self-demanding with many different needs to satisfy.
When the camp is over, we usually feel completely exhausted, all those efforts for only three days of knowledge sharing, fun and parties with new and old friends? So many weeks of preparation to reach 300 to 500 people each time? Is it worth it? Yes it is! Really... For yourself but also for the community.
But I have always been wondering if we could give something back to the community that would last for longer (not just three days) and something that people could use or take advantage of more often.
On the other hand, as a Drupal trainer, I know how hard it could be to learn Drupal for newcomers. I'm not speaking about the well-known "learning curve", but just about how to begin learning Drupal, to find the right documentation, training or video to do so. There are a lot of very good paid resources for that, but also a ton of free resources on drupal.org, in blogs and free video platforms like Youtube. Many videos on Youtube are real gems, and not only for beginners. But these resources are very difficult to find for the average user. Is there something we could do to help people to find Drupal videos on Youtube that fit their needs in a better way?
It's with those two questions in mind, giving something back to the community that could last longer and helping people find Drupal videos on Youtube in a faster and easier way, that the idea of VideoDrupal.org came to me a few years ago. But due to my professional activities I've never found the time to go on with this project until last October, when I decided to make a switch in my career and to become a Drupal freelancer. Working from home gave me the opportunity to better organize my schedule and have more time to dedicate to this project.  
What is VideoDrupal.org?
Like I said before, VideoDrupal.org is a curated mashup of Drupal videos and tutorials published on Youtube to make them more accessible for personal, educational and professional purposes.
The main goals of the site are:
1. Be a central point to easily find Drupal videos or tutorials (Beta 1.0)
2. Allow to discover trending topics (Beta 1.0)
3. Help beginners and advanced drupalists to learn Drupal (Beta 1.0)
4. Allow the community to tag videos to improve search results (Beta 2.0 - coming soon)
5. Spread personal or community efforts to promote Drupal (Beta 1.0)
As this website is aimed to serve the Drupal community, it's free and will stay free forever.
How to learn Drupal with VideoDrupal.org?
Aside from an advanced search solution, we set up a dedicated page for people who want to learn Drupal. This page is currently divided in two sections. The first one is focused on learning the basics of Drupal site building and learning Drupal theming with a curated set of amazing playlists and standalone videos.
The other section focuses on specific Drupal learning topics, like learning Git, learning Phpstorm, discovering the new Cache API of Drupal 8 or learning Gatsby and Drupal 8 for more advanced users. Each week I will add a new topic to this section.
How do we curate the videos?
We select the videos based on their overall quality. To do this, we first start by analyzing the channel.
If it's a community channel with more than ten videos, we gather all the videos and playlists. We trust in our community, so there is nothing to curate in that case.
If it's not a community channel, we first check if the channel has a learning Drupal dedicated playlist. If so, we gather all the videos of this playlist. If not, we quickly analyze each Drupal video with the following key factors in mind:
- Is the video in English? (Yes, this sounds weird, but we want to keep the project simple at this time. We're looking for a sustainable multilingual solution to implement in the beta 4.0)
- Is the sound quality good enough to understand clearly what the speaker is saying?
- Is the video about learning or promoting Drupal?
- Is the subject addressed in a clear and understandable way for the end user?
We do NOT modify the content of the video in any way.
We strongly believe that maintaining a small set of high-quality Drupal videos will help to make this project a success. You can help submitting a channel, a playlist or a video by clicking here.
Who is behind VideoDrupal.org?
At this time, we are just two: Santiago Rico (rasaric) and myself. When I finished the first round of site building and development, I proposed Santiago, a young and talented designer and Drupal frontend developer, to help me with the design and the theming of the site. He has done a really stunning job so far, hasn't he?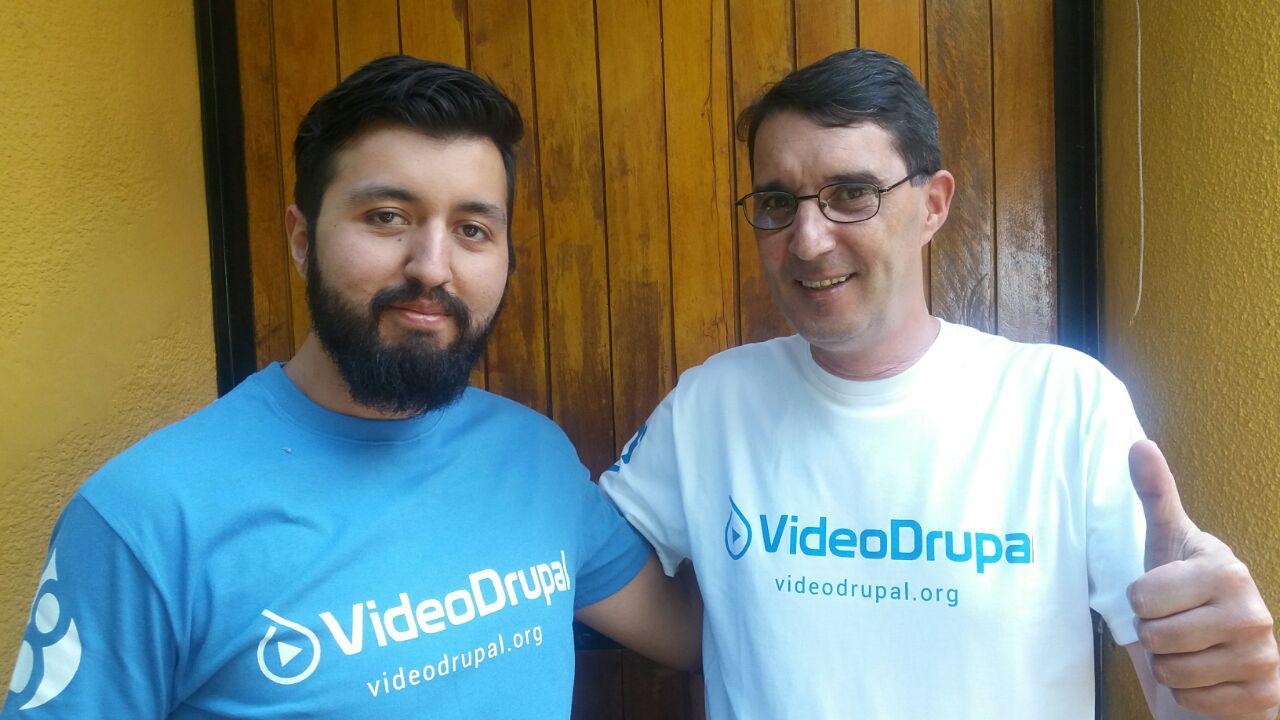 We generally work on this site late in the afternoon, at night or during the weekends. That's not always easy but we are so excited to do that for the community which has given us so much during the last ten years.
Are we competing with paid Drupal learning solutions?
Absolutely not! Those paid solutions are vital for the community thanks to their high quality, we don't want to compete with them. We strongly believe that VideoDrupal.org is like an accelerator that will push new people to have a deeper interest in Drupal and later, choose a paid solution to improve their Drupal skills. Thinking this way, we are sure that VideoDrupal.org will act at the top of the sales funnel (awareness and interest) of those paid solutions companies and bring them more customers to the consideration step.   
In fact, we don't want to compete with anybody. We just wish to offer another way to gather and keep more people to and within the Drupal community. See number 5 of the site's purposes above.
Acknowledgment
First, I would like to thank Joaquin Bravo who gave me the confidence to start this project and mentored me at the very first start. Those two or three hours of mentoring where the best Drupal gift I've ever had. Thank you so much Joaquin!
On the other hand, I would like to thank Platform.sh for hosting VideoDrupal.org for free. You may know that I'm not a devops guy, so I was looking for a Drupal hosting service that allow us to focus on what best we can do: theming and developing Drupal websites. I've been delighted by Platform.sh for two main raisons:
- As a Drupal community oriented company, they accepted immediately, without asking any questions.
- The deployment work flow was surprisingly easy, just a few clicks and boom! The site was online with a fully functional dev. and prod. environment. I believe I'm going to love doing more devops tasks now.
Thank you so much for supporting us guys!
Finally, I would like to thank my wife Alejandra and my two young adolescents, Salim and Amélie who support me in this never-ending journey. Without their continuous and understanding support, this project would never have been undertaken.
What's next?
We are now planing the beta 2.0 version, a version only focused on improving the search results and the related video block. For this version we plan to:
- Fine tuning Search Api and Solr
- Fine tuning the MLT video block
- Allow the community to tag videos to improve search results and MLT block. The current video tags are too vague and often refer to the channel or event itself. We plan to add community tags like:
type (site building - theming - development - devops - arquitecture - community building - marketing - self-improvement - case study)
level (beginner - intermediate - advanced)
kind (tutorial - conference - meeting)
subject (free tagging)
- Find a way to access the video's captions and process them through an auto tagging tool like OpenCalais so we could discover automatically the most relevant tags.
- Your idea here?
The beta 3.0 will be centered on the user experience, for this version we plan to:
- Improve the mobile experience
- Allow the user to create their own playlists
- Allow the community to create learning playlists
- Enable comments in the learning nodes
- Give the user the possibility to know which video he watched and when
- Improve the discovery of trending topics and videos
- Your idea here?
It's your turn to help the community
If you are a Drupal agency you could perhaps accelerate the process, funding some development. Even if it's not a priority for us, we work on this site on a a pro-bono basis, this kind of support may help to finish those beta versions earlier. Just contact us if you're interested.
If you are a Drupal fan like us, we would love to have your feedback to better serve the community. What could we improve on this project? Do you think that we are on the right tracks? Are there other needs that we didn't consider? This project is also yours, so leave us a comment and if you like it, share it with your friends.